How Industrial Ethernet Switch Sparkles in Automatic Sorting System
The express sorting center puts an automatic sorting system to handle increased volumes of parcels while reducing delivery times, having great potential to transform the sortation. An automatic sorting system reduces great reliance on labor while it sorts at an unprecedented faster rate. For example, it can sort hundreds of products within a minute.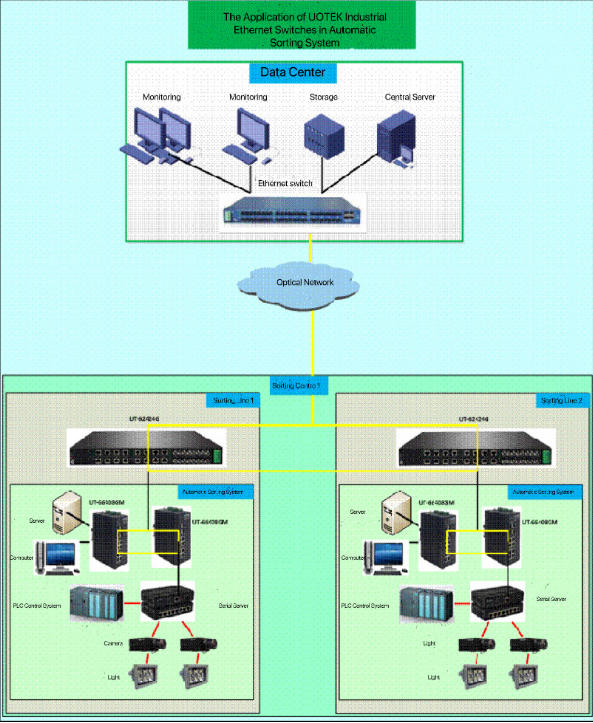 The successful implementation of an automatic sorting system can't exist without industrial Ethernet switches and serial servers. Therefore, in order to help you form a comprehensive understanding of industrial Ethernet Switches in the automatic sorting system, we will guide you to clarify why an automatic sorting system is indispensable and how industrial Ethernet switches play vital roles in the system.
Why is Automatic Sorting System Essential?
The traditional sorting system faced a few troublesome issues that reduced the working efficiency and increased parcel delivery time. Here we see a few problems related to the traditional sorting system, and you will figure out why an automatic sorting system is crucial.
1. Harsh Environment
The sorting system needs to withstand the harsh environment as airborne debris, heat, dust, humidity, and a combination of these elements are unavoidable. Not only that, but the harsh environment also comprises shock and vibration and the fluctuating temperature. The automatic sorting system that consists of industrial Ethernet switches can adapt to a different harsh environment with a protection level above IP30.
2. Unstable Communication System
The traditional sorting system is susceptible to an unexpected power failure that shuts down the sortation. Furthermore, one might also lose hundreds of files because of the interruption. However, the automation system with capable industrial Ethernet switches can not only ensure stable communication but also switch to the backup line in time in the event of a network failure.
3. Intrusive Interference by Other Machines
The interference factor of the sorting environment is quite huge due to large amounts of motors and mechanical equipment in the sorting center. Nevertheless, high levels of electrical noise can interfere with network connections. In this situation, the automatic system that has strong anti-interference ensures reliable and coherent usage during the whole system.
The Best Solution: the Automatic Sorting System
To overcome the problems mentioned above, industrial Ethernet switches and serial servers, which can provide copious benefits, play vital roles in automatic sorting systems. For instance, it withstands a broad range of temperature fluctuations and extreme weather conditions and is optimized for harsh environments. Moreover, industrial Ethernet switches and serial servers incorporate hardened enclosures, shock and vibration approvals, dual power inputs, and lots of other features to provide a suitable solution.
In particular, a managed industrial Ethernet switch, coupled with redundant ring technology, avoids unplanned downtime. Here we discuss a couple of networking devices that may prove a helpful solution for you.
1. UT-62424G
UT-62424G is a managed industrial Ethernet switch that can support up to 28 Gigabit ports. It bolsters layer-three switching technology (Rip, static route, OSPF, VRRP). It provides a trustworthy solution for the industrial automation system, video monitoring, intelligent transportation, and other industrial application networking access.
Here we take a glance at its compelling features:
ü Adopts single power input with optional dual power redundant input.
ü Adopts RMON that enhances network monitor forecast capability.
ü Supports IEEE 802.1Q VLAN.
ü Supports link aggregation that boosts network bandwidth.
ü Supports IGMP Snooping filter multicast packet.
ü Supports ACL that improves network management safety.
ü Supports port mirroring that is convenient for online debugging.
ü Operating temperature: -40~85℃.

1. UT-66408GM
UT-66408GM is a managed industrial Ethernet switch that incorporates 8 Gigabit Ethernet ports and 4 Gigabit optical fiber ports. It possesses several features and technology that make the network reliable while saving energy. Also, it is convenient for installation and flexible to use, while it remains a cost-effective option. Besides, it is the optimal choice to boost the server speed.
Here we take a glance at its compelling features:
ü Supports redundant dual power input.
ü It supports RSTP/STP redundancy protocol and redundant ring network protection.
ü Supports network management protocol of various levels of SNMP V1/V2/V3.
ü Supports MAC address-based port locking to thwart the illegal intrusion.
Guarantees network stabilization while managing bandwidth.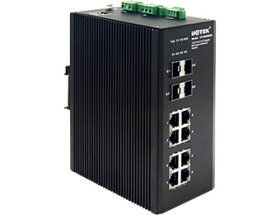 1. UT-6008
UT-6008 is a serial device server that acts as a converter between asynchronous serial port RS-232/485/422 and the Ethernet. It successfully achieves the two-way transparent transmission of data between the port and the Ethernet, allowing immediate connection with the network.
Here we take a glance at its some compelling features.
ü Supports dynamic IP and static IP.
ü Supports four hosts simultaneous connection.
ü Built-in ARP, IP, HTTP, TCP, SOCKET, and UDP protocols.
Supports gateway & agent server to allow the data transmission through the Internet.
Conclusion
As aforementioned, the automatic sorting system with capable industrial Ethernet switches and serial device servers is suitable for harsh sorting environments and provides a stable communication system to improve working efficiency. If you want to get a capable solution for industrial applications, such as a sorting system, UOTEK is your reliable partner you can't miss.
We at UOTEK believe in making lives more secure and better while ensuring our tools and devices provide a fast and reliable connection critical in automation applied to various systems, including automatic sorting systems. Our dedicated network solutions allow devices to connect, communicate, and collaborate with people, systems, and processes. Apart from industrial Ethernet switches, we welcome you to take a tour of our different products across the spectrum of networking solutions, including but not limited to serial device servers, embedded modules, interface converters, and fiber optic transceivers. With our reliable, advanced networking solutions, your automation will become safer, smarter, and more efficient than ever before.