3 Pros to Use Industrial Ethernet Switch in Metallurgical Automation System
The metallurgical automation system, which helps control several parameters in industrial production with automatic controls, is widely used worldwide. The system has an automatic function with plenty of manufacturing operations that don't need significant human intervention. In addition, the metallurgical automation system uses digital equipment and replaces traditional analog control for data realization.
It is acknowledged that the reliability of metallurgical automation systems can't be successfully implemented without real-time communication, data collection and transmission, convenient network management, and an efficient redundant network. For this purpose, the industrial Ethernet switch comes in handy, providing stable and reliable multi-service communication in a harsh environment and the possibility of effective operation of the industrial control industry.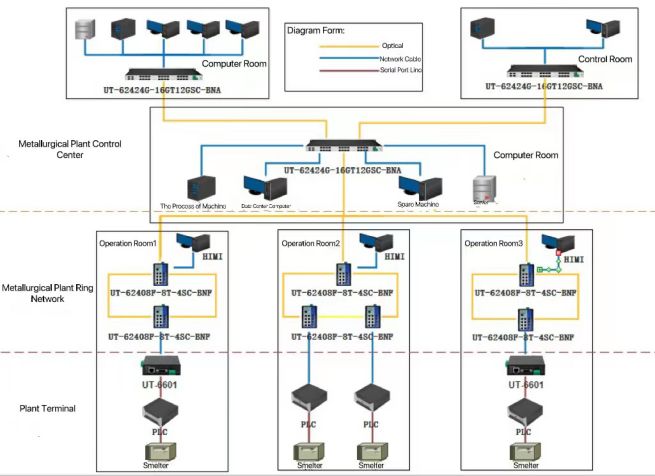 Benefits of Industrial Ethernet Switches Built by UOTEK
We at UOTEK provide a network solution through our robust industrial Ethernet switches for metallurgical automation systems to enhance stable usage. The following are the top three significant benefits we offer in the metallurgical automation system.
1. Reliable and Fast Data Communication
According to statistics, over 35% of equipment failure occurs because of power failures. However, it is acknowledged that going through a two-minute network interruption in the industrial environment is disastrous.
Thankfully, industrial Ethernet switches built by UOTEK come as a great rescue to overcome the trouble of power failure. It is worth mentioning that our industrial switches use dual power supply redundancy to ensure stable and reliable operation. And the communication will remain unaffected even if any network switch fails or a cable gets broken. Due to the characteristics such as fast network redundancy, our products are capable assistants in metallurgical automation systems and win appreciation worldwide.
2. Convenient Network Management and Diagnosis
Another superior feature is that our industrial Ethernet switches offer advanced network management tools to ensure convenient network management and diagnosis. On the one hand, our products can increase the communication rate by forwarding a range of packets to particular devices with the fastest speed.
On the other hand, the user can capitalize on a visual of the network topography that our device management system software offers, making network maintenance and troubleshooting straightforward. Without question, it is specifically beneficial for extensive and complex networks. In addition, the device management system paves the way for monitoring the system, diagnosing network issues, and troubleshooting.
3. Higher Working Efficiency
Manageability, easy-to-control, operational efficiency, and cost-effectiveness are also part and parcel of the industrial Ethernet switches built by UOTEK. Indeed, they can be controlled remotely in the production area, and the staff can monitor the whole system without going to the spot. Thus, industrial Ethernet switches designed by the engineers at UOTEK can reduce labor costs, maintenance requirements and thus enhance working efficiency.
UOTEK's Excellent Products
The excellent solution can't do its best without high-quality industrial Ethernet switches and serial servers. So let's see a couple of our industrial Ethernet switches and serial servers that shine in metallurgical automation systems.
1. UT-62424G
UT-62424G is a managed industrial Ethernet switch that can support up to 28 Gigabit ports, including 12 Gigabit fiber ports to enhance the network flexibility. What is more, it is a reliable solution for industrial automation and control, video monitoring, intelligent transportation, and several other industrial application networking access. Its distinctive features include:
● LLDP (link-layer neighbor discovery protocol) for streamlining network operation and maintenance.
● IPV4/IPV6 three-layer routing protocol for complete IP solutions.
● Power & port status relay-output alarms.
● Supporting link aggregation.
● Improving bandwidth and network management safety.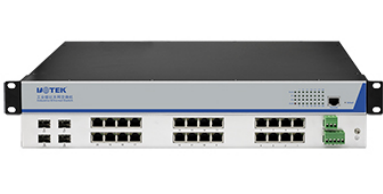 1. UT-62208F
UT-62208F is a 10-port managed industrial Ethernet switch, including 2 Gigabit fiber ports. Its fanless design averts noise interference, and it has low power consumption. It can withstand extreme conditions, and its wide operating temperature range makes it appropriate for several environments. It is also a reliable solution for industrial automation and control, video monitoring, intelligent transportation, and several other industrial application networking access combined with EMC capability. Other features are broadcast/unicast/multicast storm suppression, supporting web interface, SSH, CLI, and telnet management to assist in the operation and maintenance of different customer groups, and several combinations of fast Ethernet port and optical port.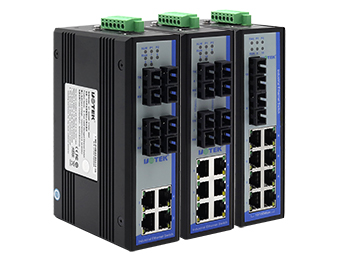 1. UT-6001
UT-6001 series serial device server has the capability to offer the function from serial port to Ethernet port. This device supports TCP/IP function, IEEE 802.3AF, dynamic IP (DHCP) and static IP, gateway and agent server while allowing data transmission through Internet, and 4 hosts simultaneous connection. Also, the POE function improves the communication of serial devices.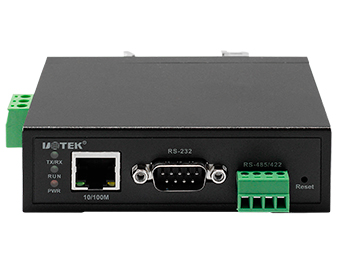 Conclusion
Now that you must clearly understand the metallurgical automation system and recognize that our products play a key role in the system. We at UOTEK are always constantly dedicated to providing stable industrial solutions to our customers. We feel driven by new ideas and innovation, apart from the heavy focus on R&D and sales & marketing of industrial Ethernet switches. As a leading supplier of industrial Ethernet communication solutions in China, our deep inclination towards new tech and insights always leads us to invest in a new automation device. It is the reason we have continued to earn several intellectual property rights, software copyrights, domestic and international certifications, and patents for invention & appearance since our establishment in 2003.
Our mission is to make connections more secure and connect our clients with the needs of the future. Would you please mind taking some time to see our other products that deal with several industrial solutions?